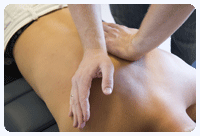 Power Center Physical Therapy Aquatics and Wellness is a realization of a therapist's vision to establish an outpatient Physical Therapy facility that provides highly specialized and individualized treatment programs to manage common musculoskeletal disorders.
We have taken therapy to the next level by incorporating wellness and fitness programs into traditional physical therapy intervention progression. Our goal is to enable our patients and clientele to handle the demands of usual daily activities, such as return to work or sports, following an injury or illness. We also strive to educate the community on understanding health risks and how to maintain a healthy lifestyle.
Our sprawling facility is equipped with the latest, state-of-the art exercise equipment and treatment modalities, including, but not limited to:
An 18-station hydraulic exercise equipment for circuit or interval training (aerobic and strength training)
Equipment for CardioVascular Endurance Training (Elipticals, Spinners, Threadmills)
Selectorized exercise equipment for strength training and work conditioning
Biofeedback machines (sEMG) for Incontinence Rehab
Electrotherapeutic modalities such as ultrasound, TENS and muscle stimulators
Hydrotherapy Equipment
Power Center is staffed with highly qualified professionals with several years of experience in providing quality care in the field of rehabilitation and exercise. Our Physical Therapists have advanced training and certifications in various fields of rehab. We have gone beyond traditional therapy and provide modern, evidence-based treatment techniques for a multitude of diagnoses. We strive to stay at the cutting edge of the industry by continuously learning the latest treatment techniques and protocols.
Our team members have been servicing the High Desert communities for almost 20 years and have established strong relationships with several providers in the locality.
Our facility is a spread of over 7,000 sq. ft. of space encompassing a well appointed clinical area with a hydro-therapy and wound care room, semi-private and private treatment rooms, a clinical gym / exercise area, an adjacent full service "for patient" gym and aquatic rehab facility.